You are here:
Home
1
/
Toddler Montessori Program
Our highly trained Pre-Primary Montessori teachers stimulate the natural curiosity of children to promote independence among students. They embrace the following mantra:
"Never help a child with a task at which he feels he can succeed." -Maria Montessori
According to Dr. Maria Montessori, children are like sponges and they absorb whatever they see around in the environment. A toddler exhibits a strong, natural sense of curiosity. Keeping this in mind, our teachers for Pre-primary Montessori classrooms have designed the curriculum that allows a child to interact with different things and material around them; encouraging them to explore all their senses and to develop all areas of knowledge. The teachers provide a variety of lessons to entertain the limited attention span of a toddler.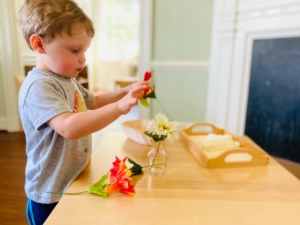 Playful Platos have specially designed learning materials. The activities are easily accessible to the children on low shelves to promote free choice. Classrooms also include low sinks accessible to the children. This promotes handwashing after every activity. Cozy quiet reading corners amplify love of reading. Teachers gently guide students throughout the day to maintain an orderly classroom environment while encouraging independence.
The core purpose behind our Pre-Primary Montessori Class in Ashburn is to widen your child's horizon and help them realize a new vision to face the world. In this classroom, we focus on the five areas of development with an emphasis on promoting independence, that are:
Cognitive Development
Social and Emotional Development
Speech and Language Development
Fine Motor Skill Development
Gross Motor Skill Development
Montessori is an important stage in a kid's learning journey is guided by certified teachers. In Ashburn VA, Pre Primary Montessori, the teachers help them to stay focused on a path leading towards self-learning and independence. In our school, your toddlers are taught to be a better learner, exploring him or herself in a better way.
Classroom work areas layout
Children love working on activities on the Practical Life shelf. These are activities that develop fine motor skills. 

The Practical Life shelf helps the children learn the following daily-life skills:

Getting dressed
Pouring liquid from one container to the other
Transferring objects from one jar to the other using different spoons, ladles, and tongs.
Cleaning and sweeping

These skill-building activities help:

Build focus
Understand the basic concepts of mathematics
Improve hand-eye coordination
Improve controlled muscle movement
Develop strong hand muscles that help a child write beautifully later on
Promote independence and self-reliance

The Sensorial section of the classroom helps develop and refine all the five senses. 

The children learn:

Experience the difference between surfaces
The learn how to distinguish based on weight, height, and volume
Tune to match sounds and smells
It also lays a basis of Geometry
It refines vocabulary, math, and classification skills

Everything in a Montessori classroom is based on the "hands-on" approach. 

Children learn:

How to read and write numerals
Match numbers to their quantity by working on different materials.
Add and subtract

Children master language skills throughout the day. We at Playful Platos Montessori try to incorporate language into all our activities. These activities help language development in the following ways:

Acquire vocabulary through small objects and other work on shelves.
Recognize letters and sounds to match the small objects to letters
Start basic reading and phonics to read three-letter words
Trace sandpaper letters to develop writing skills

Science, Geography, and History

Geography and Science shelves help the children understand the different concepts ranging from:

Difference between living and non-living
Difference between landforms
Learn the names and identify the continents
Learn and identify the oceans
Learn where we are in space
Explore different cultures and celebrations which helps them develop an understanding and appreciation of the diversity of our world
The conclusion to put somewhere:
Playful Platos Montessori is the place for your child to explore and learn at his/her own pace. Qualified Montessori certified teachers prepare a safe and encouraging environment for your child to experience the world from a whole different perspective.
Playful Platos is a family-owned Montessori and Childcare facility. Where each day we strive to provide a healthy & safe learning environment for all the children in our care.
44675 Cape Ct #189 Ashburn, VA
(703) 987-6478
info (at) PlayfulPlatos.com
Monday-Friday: 7:00AM – 6:00PM
Saturday: Closed
Sunday: Closed
We do not follow LCPS Holiday Schedule